Greek Lentil Soup
During times of fasting we always had lentil soup at least once a week in our home. A very rich and hearty soup and easy on the stomach. Heavy on the carrots and other veggies this a wholesome warming meal and great on a rainy cold day. This is a signature vegetarian meal — made without animal products. Sprinkle with Parmesan or your favorite cheese. Best served warmed.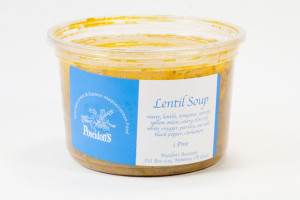 Lentil Soup Ingredients:
water, lentils, carrots, yellow onions, celery, tomatoes, olive oil, parsley, white vinegar, sea salt, black pepper, cinnamon.