Greek Pilaf
A nice aromatic mix of sweetness with a touch of cinnamon, this Greek Rice Pilaf is a warming compliment to our Greek soul food. Simply warm-up and you have a delicious treat ready for you to enjoy. The pine nuts and raisins give this rice pilaf an exotic taste which is very earthy and satisfying.
Try it warmed with sardines or smoked kipper snacks.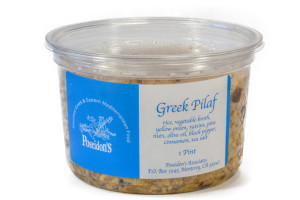 Greek Pilaf Ingredients:
Rice, vegetable broth, yellow onion, raisins, pine nuts, olive oil, black pepper, cinnamon, sea salt.
Spanakorizo
An old family vegetarian favorite which was served during lent when meat was not allowed on the table. This is a melt-in-your-mouth meal which is filling and offers a helping of healthy greens. Truly Greek soul food!
Great warmed with a heaping dab of tzatziki and a squeeze of lemon.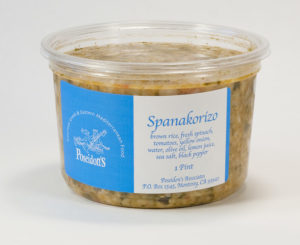 Spanakorizo Ingredients:
Water, brown rice, fresh spinach, yellow onions, tomatoes, olive oil, lemon juice, sea salt, black pepper.