Hummus
At Poseidon's we support local family run markets and source the freshest available ingredients to use in our products. Locally farmed vegetables are hand selected by our chef — and made in small batches — just like our grandparents did in the old country.
Our famous hummus, couscous, tzatziki, and other Greek and Eastern Mediterranean specialties are made in with the freshest available ingredients — so that you may enjoy the taste of fresh Greek food.
Find us in local stores from San Fransisco to Carmel, CA.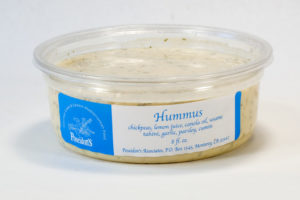 Hummus Ingredients:
Chickpeas, lemon juice, canola oil, sesame, tahini, fresh garlic, parsley, cumin.