Orzo Salad
The Greek cheese used in this orzo pasta dish gives a unique and rich flavor and is an all time family favorite. Everyone always comes back for more and wants the recipe.
Delicious warm or right out of the cooler. Excellent with grilled meat or vegetables.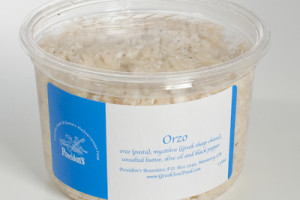 Orzo & Cheese Ingredients:
Orzo (pasta), myzithra (Greek sheep cheese),unsalted butter, olive oil and black pepper.
Couscous
Couscous is a pasta salad and we make ours with lots and lots of grated carrots, Greek Kalamata olives, Greek cheese, fresh herbs and tomatoes. This may be served with meat as a side dish or on it's own as a delicious salad.
Take a container of couscous to lunch for a filling clean and simple meal.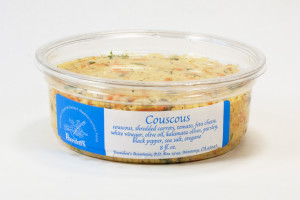 Tabouli Ingredients:
Bulghar wheat, tomato, cucumber, parsley, mint, olive oil, lemon juice, pepper, sea salt.
Minty Tabouli
Traditionally a middle eastern vegetarian salad, our Tabouli salad is mixed with plenty of greens and vegetables. Tabouli is made with bulghar — considered to be a whole grain. We add fresh mint — our signature family recipe. Hand selected tomatoes and locally grown cucumbers create a refreshing treat straight out of the deli container. This can be a meal by itself or served as a side dish.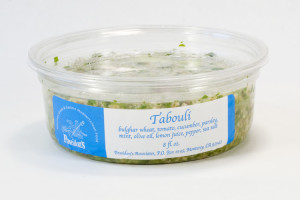 Couscous Ingredients:
Couscous, shredded carrots, tomato, feta cheese, kalamata olives, olive oil, white vinegar, parsley, black pepper, sea salt, oregano.