Tzatziki
We create our tzatziki using a sour cream base. Blended with cucumbers, dill (and of course a tad of garlic) this a family favorite as a dip, a topping, or for creating hors d'oeuvres at party time. Tzatziki is best known as the sauce served on grilled meats, such as gyros (adding a delightful freshness to the BBQ). Dollop it on a baked potato for a quick nourishing meal! Always made with natural ingredients, Poseidon's tzatziki has no preservatives and no chemical stabilizers (never). Tzatziki tastes great on just about anything!
Look for us in the deli — or at food stands at events and music venues around Monterey.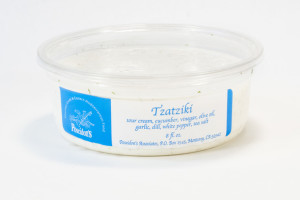 Tzatziki Ingredients:
Sour cream, cucumber, vinegar, olive oil, garlic, dill, white pepper, sea salt.